Thyrobulletin
The official newsletter of Thyroid Foundation of Canada
Members of TFC receive issues of Thyrobulletin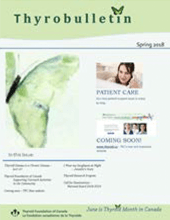 – and get a complimentary copy of our latest issue.
View a sample issue:
Autumn 2018
In this issue:
How many people does it take to start a thyroid foundation?
Hypothyroidism – It's a Daily Trip
Neonatal Hypothyroidism – why newborns are checked for Thyroid disease
A new concept for local area support
and more….
Past Issues of Thyrobulletin may contain out of date medical information.
Caution: Do not rely on Thyrobulletin for medical information. Consult your physician.