TFC Lay Summaries of Research Articles
Prepared by Hanista Premachandran, Director, Education & Research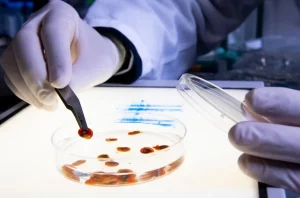 A Third of >1000 Patients Treated for Hypothyroidism May Not Require Thyroid Hormone Therapy
Daniel J. Toft (2021)
Summary: Clinical guidelines recommend adult patients with subclinical hypothyroidism and symptoms to be considered for treatment with levothyroxine therapy. However, in pediatric patients, treatment of subclinical hypothyroidism is often not recommended as thyroid testing tends to normalize in most pediatric patients over time. This review paper discusses safe and successful discontinuation of thyroid hormone treatment in hypothyroid patients. Data such as patient demographics, cause of hypothyroidism, degree of hypothyroidism, type and dose of hormone replacement, treatment duration, family history, and thyroid antibody status were included in this review. Thyroid function testing before and after thyroid hormone withdrawal were also considered. The meta-analysis, which included 16 clinical studies (with 1082 putatively hypothyroid patients), suggested that 37.2% of patients remained euthyroid following thyroid hormone discontinuation. Patients with subclinical hypothyroidism with negative antithyroid antibodies and homogeneous thyroid glands were more likely to be successful in discontinuing thyroid hormone treatment. The author highlights the importance of considering the circumstances surrounding when patients began their thyroid hormone treatment to determine whether there is a possibility of transient thyroiditis. Go to article  
---
New Formulations of Levothyroxine May Benefit Select Patients
Gary L. Francis (2021)
Summary: Patients with hypothyroidism are conventionally treated with levothyroxine (L-T4) tablets, which can achieve normal serum thyrotropin (TSH) levels but increases serum thyroxine (T4) while lowering serum triiodothyronine (T3). There are also other medications that interfere with the absorption of levothyroxine. Newer formulations use liquid or gel-cap L-T4 to improve absorption, which may improve treatment for select patients who require more frequent dosage adjustment, such as those with reduced gastric acidity. This paper reviews and summarizes data from 55 clinical trials to compare L-T4 tablets and the newer formulations (liquid and gel cap L-T4). Interestingly, the study reported that L-T4 showed equivalent serum free T4 (FT4) levels for LT4-tablet, LT4-liquid, and LT4-gel cap, but the LT4-liquid achieved lower serum TSH levels than the LT4-tablet. The authors concluded that evidence in favour of the newer formulations is weak and that additional studies are required. However, they note that the frequency of thyroid hormone dosage adjustment may be reduced with the newer formulations in patients with serum thyroid hormone fluctuations and/or intermittent use of interfering medications. Go to article 
---
Levothyroxine Is Overprescribed More Than You Realize
Tyler Drake (2021)
Summary: Thyroid hormone prescriptions have increased over the past decade and the treatment of subclinical hypothyroidism contributes to this increase. The current article assesses data from commercially insured and Medicare advantage enrollees in the United States. The study included adult participants with newly filled levothyroxine prescriptions between January 1, 2008, and December 31, 2018. Thyroid function was defined as overt hypothyroidism, subclinical hypothyroidism, and normal thyroid function. Subclinical hypothyroidism was more specifically defined as mild subclinical hypothyroidism (TSH, 4.5 to <10 mIU/L), moderate subclinical hypothyroidism (TSH, 10–19.9 mIU/L), and severe subclinical hypothyroidism (TSH, >19.9 mIU/L). The main results of the study indicate that most new levothyroxine prescriptions are for subclinical hypothyroidism, and 30% of prescriptions are for patients with normal thyroid function. Furthermore, fewer than 10% of new levothyroxine prescriptions are for overt hypothyroidism. The authors note that levothyroxine is being overprescribed, and further education and improvement is needed in the field. Go to article  
---
Hypothyroidism May Increase the Risk of Developing Dementia, at Least in Younger People
Mary H. Samuels (2021)
Summary: Thyroid hormones have important roles in brain functioning. Although some prior studies have suggested that hypothyroidism may increase the risk for cognitive impairments and dementia, the link between hypothyroidism and dementia is not very clear. This article investigates whether there is an association in Denmark patients. Subjects included 2894 adults diagnosed with hypothyroidism based on a minimum of two elevated TSH measurements within a 6-month period, and 230,950 subjects with normal TSH levels served as the reference subjects. Results indicated that patients with hypothyroidism have a greater risk of developing dementia over time compared to reference subjects. This association was decreased by pre-existing conditions but was still significant in younger patients. Importantly, results also indicated that every 6 months of elevated TSH increases the risk of dementia by 12%, highlighting how the duration of untreated or undertreated hypothyroidism can heighten the risk. Go to article  
---
Disparities in Thyroid Screening and Medication Use in Quebec, Canada
Kathrin Stoll (2019)
Summary: This article investigates the frequency of thyroid screening, and whether thyroid screening and medication use differ by factors such as sex, race, income, and pre-existing conditions in Quebec, Canada. Results of the study indicate that residents born in Canada and those that identified as White reported greater medication and screening rates compared to immigrants and those that identified as visible minorities. Furthermore, White residents reported three times greater odds of thyroid screening than visible minorities. Those with access to a regular doctor were more likely to be screened and/or medicated for thyroid disorders. Although women are more likely to suffer from thyroid disease, men were more likely to be screened. Residents who reported lower incomes were more likely to take thyroid medication compared to residents in the highest income quintile. Taken together, the authors conclude that strategies should be introduced to diminish disparities in thyroid screening. Go to article
---
American Thyroid Association Nonclassifiable Thyroid Nodules: A New Perspective
Franklin Neil Tessler (2021)
Summary: It has previously been reported that the American Thyroid Association Sonographic Pattern Systems (ATASPS) is unable to categorize approximately 17.9% of thyroid nodules. This article discusses a study done by Koblay and colleagues (2021), which investigated nodules with punctate echogenic foci (PEF) or also known as non-high suspicion calcifications (NHSC). This study compared nodules with varying subtypes of calcifications and found that macrocalcifications was associated with greater likelihood of cancer in comparison to rim calcifications. If these results can be confirmed with further research, this study can help to improve the classification of non-classifiable thyroid nodules. Go to article  
---
Endocrinologist-Perceived Factors Affecting the Transition of Thyroid Cancer Patients from Specialist to Primary Care Postcancer Treatment in Ontario, Canada
Neha Janmohamed et al. (2021)
Summary: When thyroid cancer patients are discharged from specialist care, there is no standardized transitional plan in place for patients to be followed by their primary care physician. This article investigates factors influencing the transition of care of thyroid cancer patients by providing a survey to endocrinologists in Ontario, Canada. Overall, this study found that the main factors influencing discharge were: (1) whether primary care physicians can follow endocrinologists' recommendations, (2) whether primary care physicians can adjust levothyroxine doses when needed, and (3) whether the patient trusts that their primary care physician can appropriately manage their thyroid cancer follow-up. Additionally, the main factors influencing the transition of care were associated with the primary care physician, the patient, the imaging interpretation, and discharge guidelines. This article highlights the need for clear communication between endocrinologists, primary care physicians and the patient, as well as more standardized discharge plans for thyroid cancer patients.Go to article  
---
Is Lower Socioeconomic Status Associated with More Advanced Thyroid Cancer Stage at Presentation? A Study in Two Canadian Centers
Stephanie Siu et al. (2014)
Summary: Prior studies have linked higher socioeconomic status and insurance coverage with a higher incidence of thyroid cancer, but it is unknown if this health disparity exists in Canada as well. As such, this article investigated whether there is an association between thyroid cancer incidence and socioeconomic status by analyzing data from 1701 patients (1334 patients from London and 367 from Halifax). The authors found that thyroid cancer was diagnosed in individuals from higher SES groups. Additionally, patients from lower SES groups had more advanced stage thyroid cancer at the time of presentation. Given that this health disparity also exists in Canada, further research is needed to elucidate the underlying reasons for this disparity. Go to article  
---
Improving the Quality of Life of Patients with an Underactive Thyroid Through Health: A Patient-Centered Approach
Vedrana Hogqvist Tabor (2021)
Summary: With digital healthcare tools on the rise, this article explores how mobile health applications can be used to improve the quality of life of patients with an underactive thyroid condition. 406 participants were asked to fill out a survey to score their quality of life before and after using the BOOST Thyroid application. The BOOST app allows patients to log user information such as symptoms, medication adherence, and lab test results. The app also provides analytics of symptoms over time, calculates basal metabolic rate of each individual, and provides a PDF report of symptoms. The study found that 95.8% of participants found the app helpful and 68% of these participants reported that the app improved their quality of life. Additionally, 80.8% of participants reported that the app had a positive influence on their health. Overall, it appears that including digital health tools in patient-centered treatment is associated with greater quality of life.Go to article  
---
Thermal Ablation for Small Papillary Thyroid Cancer: A Systematic Review
Se Jin Cho et al. (2019)
Summary: Prior clinical studies have shown that thermal ablation is suitable to treat low-risk thyroid microcarcinomas (PTMCs), yet the effectiveness of this treatment has not been systematically studied. This article provides a systematic review of this procedure for small papillary thyroid cancer. The authors extracted data from 503 low-risk PTMCs in 470 patients who were treated with thermal ablation. Inclusion criteria of patients with low-risk PMTC that the article discusses are the following: (1) tumour dimension less than or equal to 10mm, (2) diagnosis by cytology or biopsy, (3) absence of lymph node metastasis, distant metastasis, and gross extrathyroidal extension. They reported that during follow-up appointments, patients did not experience a recurrence of local tumours or distant metastasis, but two patients experienced lymph node metastasis, and one patient developed a new PMTC that was successfully ablated with another ablation procedure. Five patients had delayed surgery after ablation treatment, two of which had lymph node metastasis. Overall, this systematic review suggests that thermal ablation is an effective procedure to treat low-risk thyroid microcarcinomas, but care must be taken to use strict inclusion criteria. Go to article  
---
Ultrasonographic Findings in Common Thyroid and Parathyroid Disorders—Advantages of Real Time Observation by the Endocrinologist with their Own Ultrasound Machine
Jack Wall et al. (2021)
 Summary: A recent article by Dr. Jack Wall and colleagues (2021) discusses how thyroid ultrasonography is used by endocrinologists in the diagnosis and management of thyroid and parathyroid disorders. Endocrinologists use a portable ultrasound machine to ultrasound images with clinical and blood test results. Below are a few examples of different thyroid disorders and their characteristic ultrasound features:
    Benign (or "colloid") nodules are characterized by compressed blood vessels, which appears as a wide and black ring on ultrasonography;

    Follicular nodules also have a black ring surrounding its structure and appear more solid and white in colour;

    Hot (or toxic) nodules share similar characteristics with colloid nodules and may contain fluid n biopsy;

    Thyroid cysts share similar features with hot nodules but tend to be larger and rounder;

    Calcification in nodules, which is not found in normal thyroid glands, could be benign, however, if there are breaks in the wall of a calcified nodule, this may be indicative of cancer;

    Calcification may appear as spots or sheets throughout the thyroid gland. Calcification may also be present in Grave's disease and Hashimoto thyroiditis; 

    Grave's hyperthyroidism is marked by an enlarged gland with increased vascularity and the gland texture is noted to be "patchy." Following radioiodine treatment, an increase in scar tissue will be seen. 
Overall, ultrasonography has become a common and very useful tool for the diagnosis and management of thyroid disorders. Importantly, novel ultrasound methods are currently being developed, such as shear wave elastography (which measures tissue stiffness), to aid with the identification of nodules that require biopsies. Go to article
---
Evidence-Based Use of Levothyroxine/Liothyronine Combinations in Treating Hypothyroidism: A Consensus Document
Jacqueline Jonklaas et al. (2021)
Summary:
Overview of Combination Therapy
The American Thyroid Association (ATA), British Thyroid Association (BTA), and European Thyroid Association (ETA) held a joint conference to discuss combination therapy. Combination therapy (with levothyroxine, LT4, and liothyronine, LT3) has shown conflicting results in clinical studies with a few studies showing benefits and others showing benefits in only some measures. However, there seems to be a trend of patients reporting positive results. More recent evidence has demonstrated novel insights regarding the mechanism underlying the relationship between serum and tissue thyroid hormone levels, which can now guide the design of future combination therapy trials (with the hope that with this new knowledge can increase efficacy). With LT4 treatment alone (monotherapy), there is an increase in T4 and a relative decrease in T3 levels. However, clinical and preclinical studies suggest that combination therapy restores normal tissue levels of thyroid hormones. As such, combination therapy may be a promising approach, but requires further study.
Future Combination Therapy Trials Must Account for Several Factors 
The article emphasizes several issues with previous clinical trials that may be resulting in conflicting evidence. Importantly, these trials recruited hypothyroid patients regardless of whether they were symptomatic or not. Additionally, they did not specifically recruit patients who voiced dissatisfaction with traditional monotherapy, which is important because they may be more likely to benefit from combination therapy. A longer duration (1+ year) of combination therapy should also be studied, provided that TH replacement is a life-long intervention. Subgroups should also be analyzed (i.e. thyroid cancer versus or hypothyroidism due to removal or destruction of the thyroid) so that we have information on the benefits of combination therapy for different conditions. Lastly, all experiments should be blind (the researcher and participant should not know which treatment was provided). Lastly, dosage of LT3 for combination therapy needs to be fine-tuned to include a twice-daily or slow-release preparation of LT3 if available.
Approaching Combination Therapy
The article also explains that if combination therapy is being considered, the expectations of this treatment should be clearly explained to patients. It must be explained that combination therapy is a nonstandard treatment and as such, the risks are currently not clear (there may be risk for accelerated osteoporosis and atrial fibrillation with stroke risk). The trial of a nonstandard treatment may also come with significant monetary cost and treatment should be discontinued if no benefit is experienced within a reasonable window (~3–6 months). The compliance, timing, and monitoring of the treatment should also be explained. Go to article  
---
An Exploratory Study of Fatigue and Physical Activity in Canadian Thyroid Cancer Patients
Ahmad Alhashemi et al. (2017)
Summary: Fatigue is commonly reported in cancer survivors, yet fatigue in thyroid cancer survivors is not well understood due to a lack of studies in this research area. This article studies the severity and prevalence of fatigue among thyroid cancer survivors at an endocrinology clinic in Toronto, Canada. Patients were given surveys to score fatigue (Brief Fatigue Inventory) and physical activity (International Physical Activity Questionnaire – 7 day). This study found that the prevalence of moderate to severe fatigue was 41%, suggesting that 4 out of 10 thyroid cancer survivors report fatigue. Participants who were unemployed or unable to work reported greater fatigue. Interestingly, physical activity was linked with less fatigue. Although more research is required to understand the causes of fatigue in thyroid cancer survivors, this study suggests that physical activity may be effective in reducing fatigue in patients.  Go to article  
---
Thyroid Laboratory Testing and Management in Women on Thyroid Replacement Before Pregnancy and Associated Pregnancy Outcomes
Patricia Lemieux et al. (2021)
Summary: To achieve normal thyroid hormone levels during pregnancy, women with hypothyroidism prior to pregnancy usually take increased dosage of levothyroxine. This article outlines the current management of thyroid hormone testing and treatment for pregnant patients with hypothyroidism prior to pregnancy in Alberta, Canada. This study included 10,680 women using thyroid replacement at least two years prior to pregnancy and they found that 8774 of these patients (82%) were tested for thyrotropin (TSH) levels at least once during pregnancy. Furthermore, 43.7% of these patients had their levothyroxine dosage adjusted during pregnancy. TSH below 0.1 mIU/L during pregnancy heightened the chance of preterm delivery, while TSH above or equal to 10 mIU/L was not linked with adverse outcomes. It was also reported that 17.8% of the sample did not have their TSH measured during pregnancy, which is a notable concern. Overall, these results indicate that levothyroxine overtreatment is linked to preterm delivery, which emphasizes the need for clinicians to exercise caution over adjusting levothyroxine dosage. Go to article  
---