Find an Endocrinologist
Search the Royal College of Physicians and Surgeons Directory for a doctor in your area
The Royal College of Physicians and Surgeons Directory is a searchable public resource where you'll find specialists who are Fellows of the Royal College. You'll also find other health care professionals and specialists-in-training who participate in the Maintenance of Certification (MOC) Program, the Royal College's continuing professional development program.
Follow these steps to get the information for your area:
Click the "Advanced search" button to the right above the search box
Under Specialty select Endocrinology and Metabolism
Enter country, province and city
Click the Search button beside Province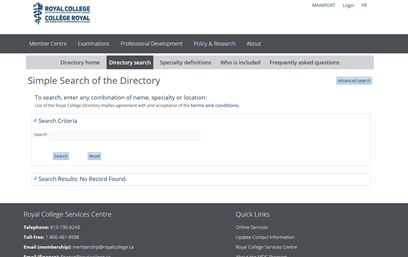 NOTE:
Please use Explorer, Google Chrome, Firefox, Apple Safari (both iPhone and iPad) as your browsers (MS Edge does not work well).
You will need to get a referral from your family physician to make an appointment with a specialist.