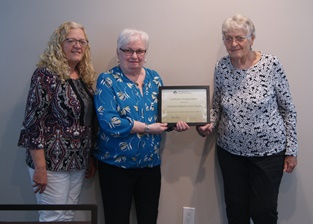 The Annual General Meeting was held in Toronto on June 2nd 2018 at the Four Points by Sheraton Toronto Airport.
Some highlights:
The Kitchener-Waterloo Area Chapter was awarded a Certificate of Appreciation for the outstanding work they do in holding Public Education Meetings in the area.
Above: Past President Mabel Miller (centre) presenting the Certificate to Cassandra Howarth, K-W President (left) and Joan DeVille, K-W Program Chair (right).
A new Board of Directors was elected (right), and a Patient Education Workshop was attended by Dr. Deric Morrison, TFC's Medical Advisor (seen below with Cassandra Howarth).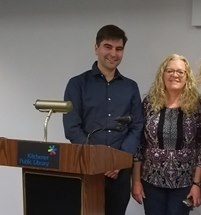 2018-2019 Board of Directors
Laz Bouros, President, Ottawa ON
Kim McNally, Vice President and Director of Patient Care, Kingston ON
Deb Walker, Treasurer, Brandon MB
Mabel Miller, Past President and Director of Education and Publications, Gander NL
Susey Harmer, Director of Fundraising, Oshawa ON
Gabriela Albarracin, Director-at-Large, Ottawa ON
Pictured right are some of the AGM attendees.
Front row: Mabel Miller, Past President and Laz Bouros, President-elect.
Back row from left: Cassandra Howarth, Joan DeVille, Kim McNally, Jennifer Olchowy, Susey Harmer.
We are looking forward to some great projects this year!