Thyroid Medications Update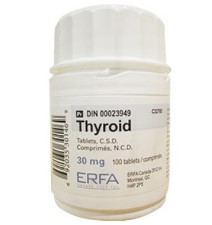 Thyroid®
Update from ERFA Mar 20 2020
Thyroid 30 mg 100s:  Available to pharmacies
Thyroid 60 mg 100s:  Available to pharmacies
Thyroid 125 mg 100s: Available to pharmacies
Thyroid®: Official statement from ERFA Canada January 6, 2020
You may have noticed a difference in the smell and taste of a recent supply of Thyroid® tablets. ERFA assures us that the effectiveness of the medication has not changed. Here is their official statement:
The thyroid product we manufacture is normally destined to be swallowed as a whole, as would be a regular tablet. Since the active ingredient is extracted from porcine tissue,  taste/smell variations are possible. This is why the organoleptic properties (including taste and smell) are not part of the release specifications of the product. Notwithstanding, please be assured that the safety or efficacy of the product is not affected by this variation of taste.
In other words, we can confirm that despite the strong smell, your pills will have the same effect as usual. We completely understand the inconvenience of taste. We hope at least that it will reassure you concerning your health. 

​
Propyl-Thyracil®
Important Notice from Paladin Labs
Propyl-Thyracil 100mg, 100s: Discontinued
Propyl-Thyracil 50mg, 100s – Unavailable, expected availability undetermined
Check back for further updates.