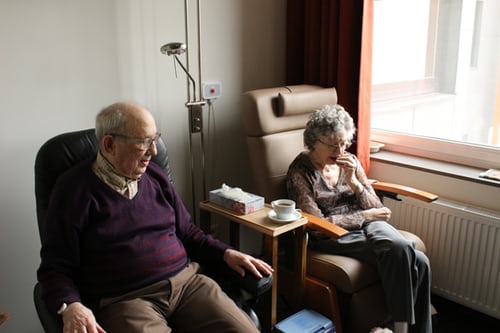 JULY IS THYROID DISEASE AND SENIORS MONTH IN CANADA!
There are many types of Thyroid Disease. To bring attention to the different disorders, we are featuring a different Thyroid topic each month. For the month of July we are focusing on Thyroid Disease and Seniors.
How common are thyroid problems in older people?
Most statistics on this topic refer generally to those over the age of 65. However since most geriatricians would normally deal with those in their seventies and eighties, we may have to "extend" these statistics to get a thyroid picture of this older group. Several studies referring to those over the age of 65 show that thyroid illness is very much a disease of the elderly and that it often goes undiagnosed. One study indicates that as many as 4% of older people may have undiagnosed hypothyroidism and half as many have unsuspected hyperthyroidism. Or to put it another way, underfunction is about twice as common as overfunction. A geriatrician in England screened about 2000 older patients in hospital and found that 5% had thyroid diseases and about half of those had been undiagnosed beforehand. Another researcher in an examination of 50 patients known to be hyperthyroid found that 2/3 of them were over age 60. Overall, research supports the idea that thyroid diseases are very much the diseases of older people and often are not properly diagnosed.
How hypo and hyperthyroidism differ in older patients
The causes of thyroid dysfunction in the elderly are usually different from those in younger patients. The most common cause of hyperthyroidism (or overactivity) in younger patients is Graves' disease. It is characterized by an enlarged tender thyroid gland which causes symptoms such a weight loss, depression, agitation, tremulousness, muscular weakness, warm sweaty palms, heart palpitations and racing heart. In older patients, however, the most common cause of hyperthyroidism is Plummer's Disease. It is characterized by a bumpy, lumpy enlarged thyroid with nodules that are overactive. The symptoms, however, are not as pronounced in older patients as they are in younger patients with hyperthyroidism. The most common cause of hypothyroidism (or underactivity) in older people is Hashimoto's Thyroiditis. It results in an enlargement of the thyroid gland, caused by an autoimmune condition in which the body defenses turn on some of the organs of the body, instead of attacking foreign invaders like bacteria or viruses.
Not in the textbooks
Thyroid problems are more common in older women than in men, but the clinical examination of women is complicated by the changes in posture and anatomy brought on by thinning of the bone or osteoporosis typical in elderly women. This fact is rarely described or pictured in text books.