July is Surgical Treatment of Thyroid Disease Month in Canada
There are many types of Thyroid Disease. To bring attention to the different disorders, we are featuring a different Thyroid topic each month. For the month of July we are focusing on surgical treatment of thyroid disease.
Preoperative Investigation
Enlargements or dysfunctions of the thyroid gland can be so varied in nature that patients with these problems must undergo appropriate investigation to make a proper diagnosis. The tests usually consist of thyroid function tests, radioactive thyroid scans, thyroid ultrasound and most importantly, Fine Needle Aspiration Biopsy (FNAB) of the thyroid gland. Based on the results of these tests, along with a suitable history, a doctor may refer the patient to see a surgeon to determine whether surgical treatment is appropriate or helpful in a particular situation.
Reasons for Surgery
Your doctor may recommend that you consider thyroid surgery for 4 main reasons:
You have a nodule that might be thyroid cancer.
You have a diagnosis of thyroid cancer.
You have a nodule or goiter that is causing symptoms of compression of the trachea, difficulty swallowing or a visible or unsightly mass.
You have a nodule or goiter that is either a toxic nodule, a toxic multinodular goiter or Graves' disease.
After Surgery
The scar after surgery will fade in time and not be very noticeable from an experienced surgeon.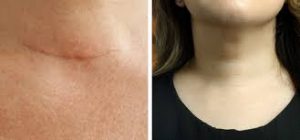 Fine-needle aspiration with ultrasound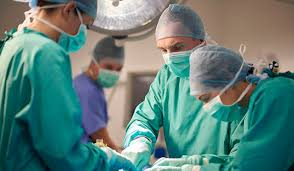 Thyroid Surgery